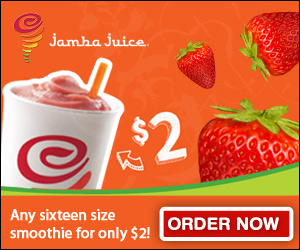 I love Jamba Juice … they do cost a little more than I like to spend normally on a smoothie, so I think $2.00 is a pretty great deal.  What's your favorite smoothie from Jamba Juice?  I'd have to say my favorite is the Light Banana Berry Smoothie (170 calories)!
Get any sixteen oz smoothie for only $2.00!
While your here, why not like and share this post with your friends using the buttons below because they love awesome deals too.
Join the rest of our fans on Twitter, Pinterest and Facebook!
Make sure you don't miss our Daily Deal Newsletter. It just takes a minute to sign up and you'll get (1) email with ALL of the HOT deals from Shopper's Haul!