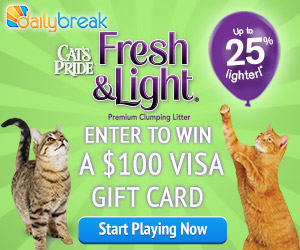 In our household, we have 2 cats…Sydney and Biggles!  They definitely are pretty spoiled if you ask me… I saw this and thought it would be nice to win a win a $100 Visa Gift Card (grand prize) or even 1 of 2 Boxes of Cat's Pride Cat Litter ($25 Value).   Why not start playing now …you'll automatically receive a Cat's Pride coupon just for entering!I
Its So Simple…The Steps Are:
Start/Info Step
Translate Feline to English by matching the kittens to their inner thoughts
Did you know that we read every comment that is left on our posts? We enjoy hearing from each of you ~ it's always nice to be able to connect with you if even only by your comments. We work really hard to bring you the best deals, freebies and giveaways and are glad you stopped so be sure not to leave without leaving us a comment.
While your here, why not like and share this post with your friends using the buttons below because they love awesome deals too.
Join the rest of our fans on Twitter, Pinterest and Facebook!
Make sure you don't miss our Daily Deal Newsletter. It just takes a minute to sign up and you'll get (1) email with ALL of the HOT deals from Shopper's Haul!