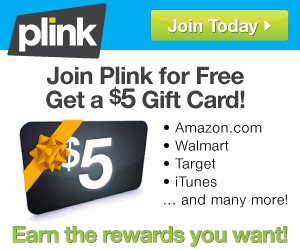 Get paid to eat and shop at your favorite stores and restaurants. Join Plink for FREE and earn Cash & Rewards from Amazon, iTunes, Home Depot, Facebook and more…just for eating and shopping at some of your favorite stores and restaurants. What could be better then that you'll earn rewards at more than 35,000 locations nation-wide. Join PLINK today and start earning rewards!
We've only been members for a few weeks and since we tend to eat and shop — we've been able to earn 1760 points!!
IT adds up really quick so what are you waiting for.
While your here visiting, make sure to join all of our fans over on Facebook, Twitter and Pinterest.
We also enjoy hearing from our readers, so take a few minutes and leave me a comment and let me know if you've signed up for Plink – it really is easy