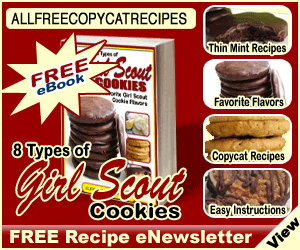 We love Girl Scout Cookies but hate the $4.00 price per box!  We do buy several boxes from our neighborhood girls each year because we love to support them, but when I saw this and realized I could make my own Girl Scout Cookies for the remainder of the year — I just had to grab it!
It has 8 different types of Girl Scout Cookies, featuring 13 pages of different varieties so you too can make Girl Scout Cookies at home.  Our favorite Girl Scout Cookies are the Thin Mints and the Samoas and I was thrilled that they are part of this eCookbook (Thin Mints are on page 5 and Samoas are on page 6).
GET YOUR FREE GIRL SCOUT ECOOBOOK TODAY!
While your here visiting, make sure to join all of our fans over on Facebook, Twitter and Pinterest. We also enjoy hearing from our readers, so take a few minutes and leave me a comment and let me know what your favorite Girl Scout Cookie is, I'd love to hear from you!