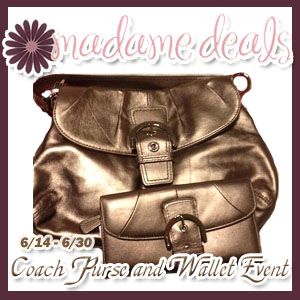 When is the last time you splurged and bought yourself a beautiful (expensive) purse & wallet!!  I can't remember the last time for me.  I usually buy my purses when they are on sale and try not to spend more then $30!!  This is an awesome giveaway … you can actually win a purse & wallet that you'll be proud to carry!
**Powered by Madame Deals and Slop Swap**
Thanks to our hosts for helping us run this great giveaway:
Dixieland Product Reviews & Giveaways
Colleen's Book Nook
Still Blonde after all these YEARS
Saving More Than Me
Diva Fabulosa
This giveaway will run from 6/14 12:01 am EST thru 6/30 11:59 pm EST
If you've entered any of our other Madamde Deals Events, this will be easy for you.
There is 1 mandatory entry of a blog comment plus Facebook likes for bonus entries.
Wait for the Rafflecopter to load and enter below: