To Celebrate
SAVING with a Working Mom's
5,000th Fan
a group of awesome blogs have come together to giveaway

Thank you to these participating sponsors: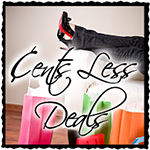 This Giveaway will run from 12:01 am Sunday, January 8, 2012 to 12:01 am Friday, January 13, 2012. I will notify the winner no later than Sunday, January 15 and they will have 48 hours to respond by email. Please see the rest of the Terms and Conditions for more information.
ONLY ENTRIES PLACED INTO THE RAFFLECOPTER BELOW WILL BE OFFICIAL ENTRIES