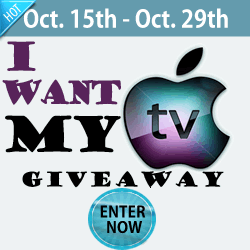 Just when you thought the giveaway would never start! Shopper's Haul has teamed up with other awesome bloggers to bring you your very own APPLE TV!! Apple TV is a set-top box manufactured by Apple. Right out of the box, it is enabled to stream digital content from any computer running iTunes!! Now this is a great `
Now you can have your chance to win your very own Apple TV by completing the items on the below rafflecopter form. Good luck!!
What will you be watching on your Apple TV!!